Fundamentals of Selling IT to the Federal Government
The Inside Guide to Acquisition and Contracting Processes
Date:
Wednesday, April 10, 2019

Cost:
immixGroup Clients/Partners: $995
General Public: $1,195
Have a group to train?
Bring this course onsite to your location
Questions about this training?
Email Barbara Austin

Location:
immixGroup Event Center
8444 Westpark Drive, Suite 200
McLean, VA 22102

Schedule-at-a-Glance:
8:30 a.m. - Registration & Networking Breakfast
9:00 a.m. - Fundamentals of Selling IT to the Government
12:00 p.m. - Working Lunch (provided)
1:00 p.m. - Contracting
4:30 p.m. - Day Ends

Course Instructors:




Chris is responsible for developing knowledge of federal initiatives, funded programs, and targeted opportunities for immixGroup's clients. He helps clients across the technology spectrum identify fits for their products within the federal government and provides pre-qualified leads to inside and outside sales organizations to help them win federal business.



With over thirty years of experience in government contracting, business development/capture management, IT solutions sales and sales team management, Ray has helped hundreds of technology manufacturers succeed in the government marketplace. His depth of expertise on every facet of the government contracting and sales process provides technology manufacturers and channel partners with a comprehensive strategy for market success


Barbara manages immixGroup's proprietary Market Intelligence database, which houses information on thousands of public sector organizations and their IT investments. She is able to identify needs and funding sources within government agencies to help technology companies do business with the government.
Course Overview

Now more than ever, it's important to understand precisely how the government buys. More vendors are competing for fewer dollars. It's hard to win if you don't know the latest rules and the many process steps.

This premiere learning experience will help you chart a course from opportunity through contract action. In this one-day course, you will learn the actionable tools and techniques to find funded opportunities, position your company to win, and know how you will respond to each of the many ways the government can buy contractually.

You'll be guided through this complex process with the Acquisition & Procurement Processes Model, which will serve as your reference point for forecasting.


Acquisition & Procurement Processes Model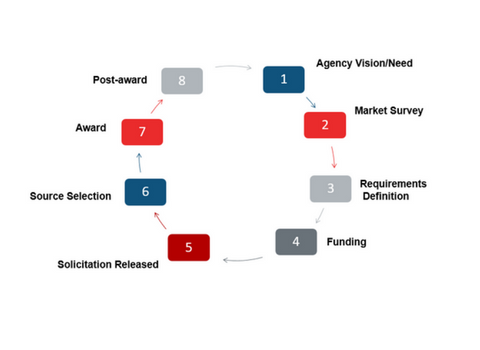 You'll review steps 1-4 of the Acquisition and Procurement Processes Model and learn to:

Map your sales activities to all the things your customer must do to complete an actionable purchase request

Use federal budget documents to identify planned technology investments aligned with your technology solutions

Shape your technology offerings and messages to address current government needs

Know who to talk with, about what, at the right time, and why

Confidently ask those government stakeholders precise questions so you can forecast more accurately

You'll review steps 5-8 of the Acquisition and Procurement Processes Model and learn to:

Understand and appreciate the many options a contracting officer has and how to put your best foot forward

Recognize and appreciate the differences between contracting methods and contract types used in technology procurements

Compare and contrast GSA Schedules, BPAs, IDIQs, MACs/GWACs

Review strategic implications of contract vehicle representation decisions

Understand teaming and subcontracting in the context of channel sales models

Know the differences between teaming schedules and teaming to respond to a government RFP so you can leverage both to your benefit
Chris Wiedemann
Consultant, Market Intelligence
Ray Miles
Sr. Channel Account Executive
Barbara Austin
Database Manager
| | |
| --- | --- |
| | © 2019 immixGroup, Inc. All rights reserved. |
"Took away some things that I will use immediately and repeatedly on the job."

Federal Business Development Manager, Riverbed

"Great course. Highly recommend."

DoD Account Manager, Check Point Software
"Feel a lot more confident going into sales."

Account Executive, Fierce Software
"Very helpful procurement insight."
Inside Sales Specialist, Adobe